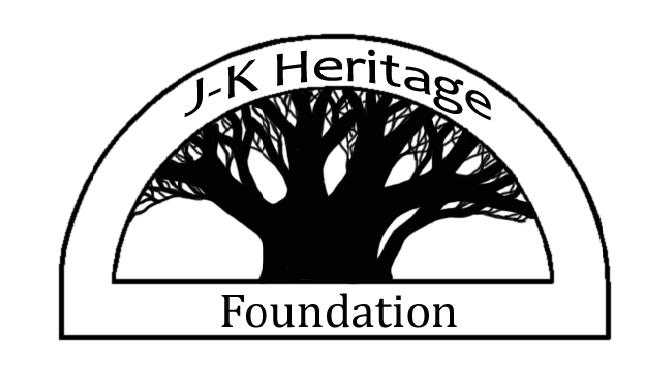 JKHF Gifts are Tax Deducible.
Our Publication Local Purchase Locations:
Colter's Creek Winery
308 Main St.
Juliaetta, Idaho
Juliaetta Market
1051 Main St.
Juliaetta, Idaho
Red Cross Pharmacy
509 E. Main
Kendrick, Idaho
Simple Joys
Antiques & Gifts
609 E. Main
Kendrick, Idaho
...and BOOK, too!
918 6th Street
Clarkston, Wash.
Sharon Harris
JKHF President
(208) 289-4622
JKHF
P.O. Box 37
Kendrick, ID 83537
FACEBOOK:
The JKHF membership was deeply saddened by the loss of two members, John and Arlene (Deobald) Watts Wallace. As ardent supporters of the promotion and preservation of Kendrick history they will be deeply missed.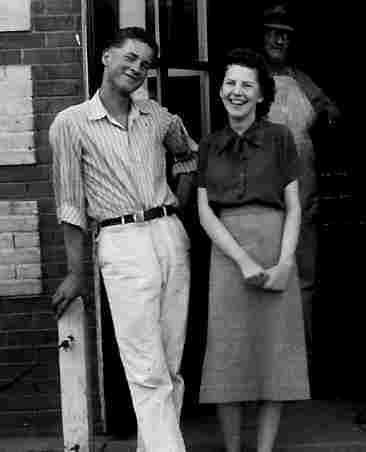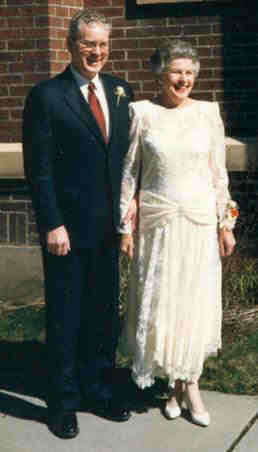 1938 John & Arlene at Kendrick High School 1987 John & Arlene's Wedding
John Andrew Perry Wallace, 89
John Andrew Perry Wallace passed away at the Montana Veterans Home in Columbia Falls, Montana, on March 10, 2011 just shy of his 90th birthday.
John was born March 16, 1921, in Pilot Rock, Oregon where his family raised sheep. You could say John had a lot of life experience. The summer after his sixth grade year, John's break from school included driving an 8-horse team pulling a wheat wagon in the harvest fields. After attending 7th grade in Lewiston Orchards he occupied the following summer tying wool for a six-man sheep sheering crew in Livingston, Montana. In 1934 the family moved on to Kendrick, Idaho where John went to eighth grade and high school graduating in 1939. During his years at Kendrick High John lettered four times in basketball and went with his team to the state tournament. He balanced school and basketball with his jobs at Long's Store, Blewett's Grocery and as a school janitor.
In 1940 John entered Eastern Washington College in Cheney, studying to join the Navy to train as an officer and pilot. He enlisted as a U.S. Navy Aviation Cadet in 1942, completing his training at St. Mary's College in early January of 1943. Later that year he married his college sweetheart and Whitefish native, Anne Hansen. John and Anne welcomed a daughter, Kristianna in 1961. Their family was completed in 1963 with the addition of a son, John Clarke.
During his military career, John served in World War II and the Korean War, piloting naval aircraft in anti-submarine patrol squadrons. He never lost a man or a plane. He was qualified to fly 32 different Navy planes and was active in Naval Reserve and Recruiting.
In 1954 John literally flew around the world, leaving Whidbey Island in May traveling west stopping in such places as Guam, Okinawa, Hong Kong, Taiwan and Japan, and later traveling on through Manila, Singapore Naples, Morocco Argentina, Rhode Island and Kansas. He arrived back at Whidbey Island in October joking that "he had lost forever one day of his life."
Commander Wallace retired from the Navy in 1963.
John began a second career making his family and community his life's work as they moved to Kenmore, Washington. There he was active and instrumental in the Northshore Chamber of Commerce, the Kenmore Library Board, the Kenmore Community Club, YMCA, Boy Scouts, Little League and more. John and his wife Anne became known as "Mr. and Mrs. Kenmore" and Wallace Swamp Creek Park in Kenmore was named in their honor when they retired, again, to Whitefish in 1980. Anne passed away in 1985.
In the spring of 1986 John reconnected with Arlene (Deobald) Watts, a friend and classmate from Kendrick High School. John and Arlene were married March 21, 1987.
They made their home in Whitefish where John was active in the American Legion in the White Cross Program and in Glacier baseball. He and Arlene also enjoyed many hours volunteering with the Whitefish Historical Society and Museum and at the Whitefish Library.
Arlene (Watts) Wallace, 88
Arlene (Watts) Wallace passed away peacefully on March 13, 2011, at the Montana Veteran's Home in Columbia Falls, Montana, following a six-month illness.
Arlene, born Margarete Arlene Deobald, arrived April 15, 1922, in Kendrick, Idaho, the oldest of five children born to Edwin Albert and Anna Becker Deobald. Her childhood was spent in Kendrick where she graduated in 1939 as valedictorian of her class at Kendrick High School. She then pursued her education at the University of Idaho in Moscow, graduating Phi Beta Kappa with a B.S. Business in 1943.
On July 19, 1942 Arlene married Joseph William Watts in Kendrick. Joe and Arlene made their home in Moscow where Joe was an accountant and later Business Manager and Bursar at the University of Idaho. Together they raised four daughters—Jane, Linda, Carol and Sue. Yearly vacations included trips to Canada, Yellowstone Park and the World's Fair in Seattle in 1962 as well as boating on Chatcolet and Coeur d'Alene Lakes where in 1965 they bought a cabin near Conkling Park.
Arlene was active in her daughters' lives, serving as a Blue Bird and Camp Fire Girls leader. She was a charter member of the Bowlerama in Moscow where she bowled in two leagues for thirty years. Arlene played bridge regularly, was a member of the Faculty Women's Club, and belonged to Chapter AB of PEO. For many years she worked several weeks each semester in the Registrar's Office at the University of Idaho, transcribing grades by hand. After Joe retired they together volunteered for community activities including Meals on Wheels. They also traveled extensively to Europe and the Far East.
Following Joe's untimely death, Arlene married John Andrew Wallace on March 21, 1987, and became stepmother to Kristianna and John Clarke. Arlene and John made their home in Whitefish, Montana, where Arlene joined PEO Chapter BR and where she and John volunteered at the Whitefish Library and the Whitefish Train Depot Museum. For many years they enjoyed organizing the monthly birthday parties and the Christmas gift shop for the residents at the Montana Veteran's Home in Columbia Falls.
Arlene's family and friends loved listening to Arlene play the piano. She enjoyed doing embroidery and baking cookies, pies, and other sweet treats. She was interested in local history and one of her passions was genealogy. Her extended family was quite large, and their frequent family reunions and "cousin picnics" were very important to her.
In late September 2010 Arlene was diagnosed with a brain tumor. She and John subsequently moved together to the Whitefish Care and Rehabilitation Center and then to the Montana Veteran's Home. John passed away on March 10, 2011, just three days before Arlene's death. Our family wishes to thank all the doctors, nurses, aides, other staff and volunteers at both facilities for their compassionate care during Arlene and John's last months.
Arlene was preceded in death by her 10-year old daughter Carol in 1963; her parents, Anne and Eddie; her first husband, Joe; her brother, Theodore "Ted" Deobald; and her second husband John. Arlene is survived by her sister Annabel Keene of Moses Lake, Washington; her brothers Charles Deobald and John Deobald, both of Kendrick; her sisters-in-law Barbara Deobald of Richland, Washington, Betty Watts Bell of Lewiston, Idaho, and Ervalyn Hill of Bend, Oregon; her daughters Jane Weiss of Cardiff, California, Linda and husband Dale Newberry of Moscow, and Sue and husband Dave Eschen of Moscow; her stepchildren Kris and husband Sven Ollestad of Bothell, Washington, and John C. Wallace of Whitefish. Nana will be dearly missed by her grandchildren and great grandchildren: Jeremy Newberry, wife Deanna and daughters Zoe and Zana of Bend, Oregon; Laura Willis, husband Darrel and children Ashley and Evan of St. Helens, Oregon; Zac Weiss of Cardiff; Stephen Eschen of Moscow; Laurel Eschen of Arcata, California; Annika, Isabella, Sabrina and Julia Ollestad of Bothell; and Taren Cooney and Christine and daughter Melody of Kalispell.
A celebration of Arlene's life is scheduled for 11:30 a.m. on Saturday, March 26, at the 1912 Center in Moscow. Private burial will take place at the Moscow Cemetery. A second celebration is planned in Whitefish later in the spring.
The family suggests memorials to the Whitefish Library, the University of Idaho Arboretum, or the Juliaetta-Kendrick Heritage Foundation.