Below is after October 2014 Brick Restoration is complete on front of building.
~~HOME Location Overview: Our second floor space encompasses 2,580 sq. ft. in the 8,200 sq. ft. building used as Kendrick's Community Center. It has a Fraternal Temple nameplate located at 614 E. Main in Kendrick. The public area "Grand Room" and entry room allows for meetings, educational sessions, a research center and Kendrick's only historical museum. A grand opening was held on April 25, 2015. Open hours and contact numbers for private tours to the museum and research center usage are posted on this site's front page and on the building's stairway entrance door.
2015 attention is expected, with funding (outlined on this site's front page) to provide updates to the balance of the 2nd floor electrical needs, provide a functioning restroom and utility room, install a temperature control unit for the second floor and toward making each window energy efficient and weatherized.
Our Research Area contains digital and hard copy media including newspapers, books, school annuals, magazines, photo's cataloged in notebooks designated by broad topics, journal listings all provide local area and family historical data. Research abilities are enhanced with a scanner, a computer and a microfiche reader.
Our Museum has the following "Memories of the 1900's" segments of identified collections as well as local area and family/business photo displays:
Recreation
Music
The Home
Railroad
Communication
Businesses
Logging
Farming
Ranching
Churches
Tramways
Military
~~Brick Repair Overview: The Fraternal Temple building's external brickwork is only one unique feature that placed our 1905 Community Center building on the National Register of Historic Places listing. Some of the bricks came from Kendrick's Fruchtl Brick Company. Generous grant and public support dollars, totaling $11,450.00 in

2013, allowed critical leaks and crumbling brick wall supporting area repairs.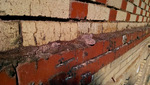 Spray washing the building in 2014 caused critical restorations Phase 4 plans to be re-evaluated on how to best spend the acquired $18,000.00. 100 years of moss and dirt was found to be the only substance holding some of the TDS facing wall in place! Long-term roof drainage & par-pit wall fixes were provided and 3 1/4 of the building's walls now have all critical brick areas aligned.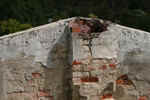 The two pictures are before 2014 repairs. With $30,000.00 additional funding the balance of the TDS wall will be made structurally sound and 18 windows will be restored and painted blocking bats, insects and the weather from entering. Community support can be provided either with a JKHF designated project contribution or through the Buy- A -Brick fundraiser ($50.00/brick that can accommodate up to two names) for the completion of this final phase.
ON-GOING JKHF RESPONSIBILITIES:
~~Ed Corkill Memorial Trail for Biking/Walking/Skating Signage: This local 5.3-mile picturesque trail is a paved pathway available for recreational use year around. This section of the former Northern Pacific Railroad bed begins near Kendrick High School. It winds through Kendrick and drops gently as it follows the Potlatch River to Juliaetta, ending at Juliaetta's Centennial Park. Benches along the way allows for rest and reflection within our scenic Potlatch River canyon. As an added educational benefit, there are twenty refurbished standard railroad signs, eight RR informational signs, and three Kendrick Historical Tour sites on this trail maintained by JKHF.
~~Juliaetta & Kendrick City Historians: We now officially hold that designation in each city.
~~School Annual Collecting: Listing of current archived collection School Annual Archive Listing
~~Leland, Southwick, Wild Rose and Cameron Cemeteries: On-line cemetery researchers now have enhanced data on many of our local cemetery residents thanks to JKHF members. Matching tombstone photos, providing specific grave locations and resident's obituaries link: Find A Grave . For more information: Cemetery Links .
~~Oral Histories: Contact Sharon Harris to record and pass on our elder's legacies.
~~Pictures & Stories of KENDRICK, JULIAETTA,& Brands: "A Complete History of Kendrick" is being worked on . Contact Sharon Harris (contact details at on the left side link) to share what you have. Additionally a historical pamphlet of brands used by area local cattlemen is being prepared for printing.